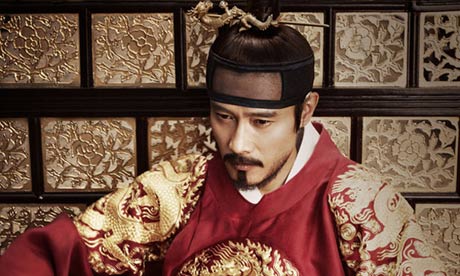 CJ Entertainment
Masquerade Review
2012, 132 minutes
Not Rated
Showing on February 23 at the New York Korean Film Festival, Masquerade is one of the biggest surprises I've viewed in ages. Set in 1616, Masquerade is an adaptation of Mark Twain's The Prince and the Pauper that follows a man, Ha-seon (Byung-hun Lee), chosen to be the king's (Lee again) body double after the king falls ill. Upon assuming the position of king, Ha-seon settles in and sees the corruption of the court, and because of this, he tries to treat people better and change policies.
The acting is highlight of this film. The supporting cast is great, but it is Byung-hun Lee's astounding dual performance as Ha-seon and the king, two characters who could not be more different, that really wowed me. Lee is Ha-seon for the majority of the film and creates a deeply sympathetic, kind character. Every moment he was onscreen, I was mystified with the amount of sincerity, charm, and humanity he put into his role. This role reminded me of Dominic Cooper's powerhouse performance in 2011's The Devil's Double in which he played Sadaam Hussain's son, Uday, and his body double. However, the two performances are very different in good ways. Cooper's is flamboyant and showy, whereas Lee's is more subtle and human.
The screenplay, written by director Chang-min Choo and Jo-yun Hwang, is really brilliant. It takes a well-worn story and turns it into something fresh, new, and exciting by creating interesting, three-dimensional characters and a twisting plot. A genius move by them was to add quite a bit of humor into the film. Humor is something that rarely is in period pieces for good reason, but in Masqeurade, it works well balancing out the very dramatic plot.
Chang-min Choo's direction is tight. At 132 minutes, Masquerade is longer than many movies out now, but never is one of those minutes wasted. Choo keeps the film moving at a brisk pace; I was never bored. This is one of the most entertaining period pieces I've seen. It somehow manages to be powerful, emotionally compelling, and entertaining at the same time. Going into this film, I expected a lavish period drama (which it was). What I didn't expect was to be so compelled, inspired, and happy when it was over.
Overall, Masquerade is a must-see. It is currently one of Korea's highest-grossing films of all-time and for good reason. This is a film for everyone that should be enjoyed by everyone. I really loved this movie and would happily revisit it in the future.
4/4
-Joshua Handler